Every time, when I paid a visit to the label on the Internet, I catch myself with 'schmacht', sighs and "Oh how that is nice!" – exclaim.
Retro jewelry by Miss Cherry
Miss Wildkirsch (to the DaWanda shop*) is a young company in the heart of Brunswick, what beautiful girlish, delicate and tender retro jewelry manufactures. All absolute favourites, and that always a touch of retro.
The sweet fruity name the young couple Anna and Steve behind, which has provided a very successful project with much love and passion. With their work they want to 'Turn every lady in a true feast for the eyes'.
I am very happy that I could pursue my curiosity holes one of my favorite Jewelry manufacturer with any questions. They have told me how they have come to the magical name, which artists especially appreciate them, and what makes their work.
What's behind 'Miss Wildkirsch' for a history? And what brought you to the sweet name?
I do (Anna) Yes – actually already since I can remember – jewelry. I made already my first bracelet me in preschool age from small glass flower beads, which I was given by a neighbor.
Since then this passion like a red thread runs through my and later also through Steve's life. We needed a half eternity for the name choice. I wanted something with 'Cherries' in combination with 'Miss'. My birth name is Wang, which has the meaning of 'Cherry blossom' on German. Thus, the cherry from time immemorial deep with me is rooted. But it was not so easy to find something catchy and Tuneful.
Are there certain artist or fashion icons that inspire you to your creations? Or caused the ideas when browsing for new jewelry parts?
I let myself always inspired by the ancient artefacts and then just trying to tease the best out. When shopping the little sweetie, I get in my head, what you could make everything beautiful so always a flood of images. Since I must me master always bad, that I buy too much. My fund already bursting seams at… :))
What differentiates Miss Wildkirsch from other jewelry?
Our passion and our passion is in this darling and in conjunction with the old vintage finds is simply a unique combination!
What is the perfect music to work for you? Can you recommend something here?
Oh I love Kitty, Daisy and Lewis so much. You bring us here regularly in swing!
I just heard once and am totally done to music in a 50s style. While writing I'm sitting here in the Café and rocker while listening to this songs with happy feet. Would the retro jewellery not perfectly fit to Kitty and Daisy by Miss Wildkirsch?
We find a part on flea markets (a great passion of us) and the other sources are a well kept secret. The enamel flowers chains are each unique and manufactured by us even once.
The earrings*, however, occur in very small editions. The stones are through their old age and the previous manufacturing processes all a little bit different. But is this difference is very minimal. Is most definitely in each individual honey a little piece of history.
You sell even very complex parts. Is it hard to give away pieces of jewelry, especially long sitting where, then? Perhaps also a kind relationship become the objects?
Oh, Yes! Especially with the elaborate chain* must I keep getting bad to me, not to keep. But I know that they get into good hands. When I see the pictures of our happy customers, I'm happy of course twice!
What jewelry do you like personally particularly like?
We have an absolute favorite jewelry designer. Steve wears only retro jewelry from her and I combine it with a few particles of us and some flea market finds. And that is the beautiful Alexandra by Schade. You can find them here: our site.
You are working together. Is there a certain Division of labour? Tasks that one makes love to the other rather less?
Yes, in all cases. Steve is responsible for the photos. I absolutely have not the Know-How and the necessary patience. He is also the 'Gofer' if there's a fire, and then I am responsible for all the rest.
' Would you equip it also regularly family and girlfriends jewelry with your retro? You are enthusiastically determined by your work!
Ohja of course! For birthdays regularly our workshop 'storm'. But it's also really handy to have someone to hand that fits one of the jewelry entirely on his desires!
Ask Steve: you take care as a man by your work, what jewelry women wear? Because after some time to get an eye of what fits best for whom?
I had always been a sense of harmonious compositions. But through the work to sure of course reinforced.
Retro is yes a very small-scale and filigree work to produce jewelry. It takes much tact, quiet and concentration. What is your favorite balance of work because private? Do you need then even much movement and action?
Oh, we're so two small Pruckler (note both Vintagemädchen: Sweet Word – probably something like 'Hobbyists', 'Lovers of filigree work'? :)). Our two children (XTC, 5 and Lisbeth, 3) keep us in daily life enough to Trapp. So we are quite happy to have a somewhat "calmer" work as a balance to the two.
Is there someone you would decorate very happy times with your creations?
Oh, I like so yes the Lena Hoschek! That would of course be a Coronation of the finest.
What is the unique, specific to your work for you? Would you describe the work with 'Miss Wildkirsch' as your dream job?
Definitely Yes! It would be our absolute happiness, if it would just continue as before. The special thing about it is easy to live his dream and to be his own boss.
And finally: we are happy that…
…WIR live we can, what love!
Thank you both for the fascinating insight into your work a very nice, young couple, the his passion lies in that, what is both their work and their greatest dream. Have their great love to the retro jewelry made to their profession. Anna and Steve are a wonderful role model for all of us who want to also make their own dreams come true.
I continue to appreciate great, new creations by you. And of course I'm rooting, that Lena Hoschek someday will be your best customer.
If you can also get enough of Miss Wildkirsch, then here's Miss Wildkirsch in their Online Shop*.
Have fun browsing (and languishing)!
Gallery
Black Cat Charms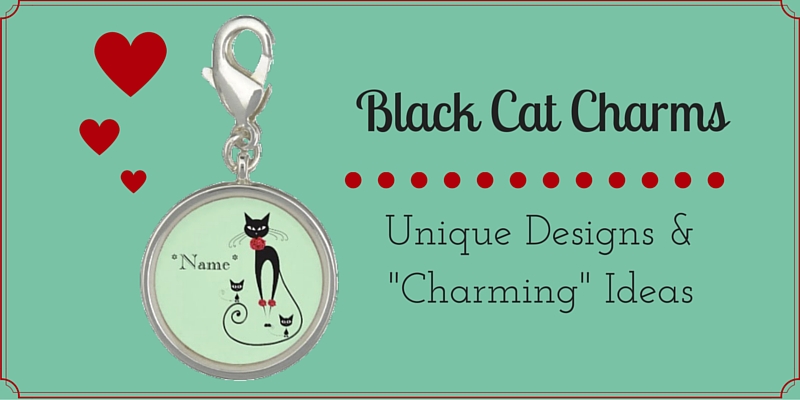 Source: www.blackcatgifts.com
457 best Necklace images on Pinterest
Source: www.pinterest.com